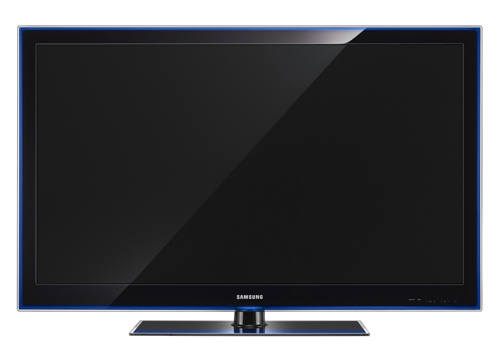 Samsung had a little mid-year coming out party yesterday as it unveiled a bunch of new flat panels and associated home theater gear. One of these upcoming releases is the new Series 8 850 and Series 8 860 LCD HDTVs, pricing between around $2,700 and $3,500.
Four models make up the Series 8 850 and 860, consisting of two each 45.9- and 52-inch televisions. All units will be available in September and unique features include a slim, narrow bezel with a touch of color around the edges and support for RSS feeds from USA Today. For full details, check out the press release after the jump.
Samsung Debuts the Evolution of Functional Art With New Slim Bezel "Touch of Color"™ LCD HDTVs
EnergyStar®-rated Series8 850 and 860 LCD HDTVs Build Upon Revolutionary Design
RIDGEFIELD PARK, N.J.–(BUSINESS WIRE)–Samsung Electronics America Inc., the market leader in HDTV design and innovation, enhances its "functional art" home technology collection with the introduction of two new LCD HDTVs. The Series 8 850 and 860 LCD HDTVs feature a next generation implementation of Samsung's ToC™ (Touch of Color™) design – a new slim and narrow frame with a depth of 1.9 inches at its widest. In addition to rose (850), Samsung now offers its innovative ToC design in deep blue (860). The Series 8 delivers a crisp full HD 1080p picture with up to a 50,000:1 dynamic contrast ratio, and features Samsung's latest Auto Motion Plus 120Hz™ and Ultra Clear Panel technologies for continual rich details and lifelike color.
"Samsung's Series 8 LCD HDTVs represent the company's proven dedication to offer consumers new applications and performance levels that enhance their TV viewing experience," said Jonas Tanenbaum, Vice President of LCD Television Marketing at Samsung Electronics America. "Sporting our latest ToC narrow bezel and slim design, the Series 8 combines cutting-edge technology and stylish design for the home. While picture quality is always a priority, we have also focused on connecting consumers with their own digital content, pre-loaded digital content from the Content Library, or online RSS feeds of the latest news, sports and weather from USA Today via our InfoLink service."
Series 8 850 / 860 Full HD LCD TVs
Slim and Narrow Bezel with a Touch of Color
Samsung continues the tradition of introducing innovative design with a next-generation iteration of its innovative Touch of Color. For consumers searching for a TV that is ideal for mounting near flush against a wall, the Series 8 has a new ToC design that is half the width of conventional flat-panel TVs at a mere 1.9 inches deep at its widest point. The Series 8 also features minimal edging around the screen, just enough design to appreciate the beauty of the TV when turned off and its superior picture performance when on.
Implemented in Samsung's Series 8 flat-panel HDTVs, ToC is an innovative design that infuses color in the black bezel by employing dual-injection molding technology. Since color is infused and not painted on, no volatile organic compounds (VOC) are emitted during the production process reducing CO2 emissions.
Ultra Clear Panel and Wide Color Enhancer 2
Taking picture clarity and crispness to a new level, Samsung's Ultra Clear Panel is designed to improve contrast ratios and produce deep black levels. Able to perform in any lighting condition, the Ultra Clear Panel ensures that the TV flawlessly displays bold, bright colors and deep, dark black tones. For vibrant and pure onscreen portrayal of nature-perfected colors, Samsung's Wide Color Enhancer 2 technology maximizes the expanded color range used in HDTV broadcasting. By strengthening the reds, greens, and blues, depth and intensity are added to images that may appear weak on other displays without over-saturation. Users can appreciate the look originally intended by the movie director, or game developer.
Auto Motion Plus 120Hz™
Designed to minimize the motion judder and image blurring that can occur in fast-paced action scenes or sports broadcasts, Samsung's Auto Motion Plus 120Hz™ technology estimates and inserts an extra frame between frames to create a smoother viewing experience. The extra frame renders images that flow more naturally, allowing even the quickest action scenes to be presented with lifelike precision and clarity.
InfoLink™
Further positioning the HDTV as an entertainment hub in the home, the Series 8 LCD HDTVs include the one-button, on-demand InfoLink™ RSS service. Powered by content from USA Today, InfoLink instantly displays news, weather, and stock information onscreen via adjustable overlays. As the ultimate form of convenience for the always-connected consumer, InfoLink allows users to view stock quotes from their personal portfolio and local weather information. Connect the TV to the Internet, and there is no need to change the channel to get a five-day forecast of the weather.
Digital Content Connectivity and Management
The Series 8 LCD HDTVs offers a host of connection options to enjoy a growing library of digital content. Simply plug a memory drive or digital camera in the side-mounted USB 2.0 port, and WiseLink™ Pro turns the television into a jukebox or photo album. The TV recognizes not only MP3 and JPEG files but also XviD and MPEG4 videos. In addition, it comes with a Digital Content Management feature that allows the user to sort images based on usual parameters like time and unusual ones like color and composition. Additionally, the Series 8 LCDs are compatible with DLNA (Digital Living Network Alliance) for easy connection to and content sharing with other DLNA-CERTIFIED™ products, such as a computer.
EnergyStar® Rated
Aligned with Samsung's efforts to combine technological advancement with environmental awareness, Samsung's Series 8 LCDs feature a unique "Energy Saving Mode" making the HDTV compliant with the latest EPA EnergyStar® rating system. By selecting a low, medium, high, or auto setting, the HDTV's backlight brightness is adjusted and power consumption is substantially decreased compared to similar 2007 models.
The Series 8 850 LCD HDTVs will be available in September in the 46" class (45.9-inch measured diagonally) and 52.0-inch sizes (model numbers: LN46A850 and LN52A850). The Series 8 860 LCD HDTVs, which include an additional USB 2.0 connection and a variation on the bezel design, will be available in similar sizes (model numbers: LN46A860 and LN52A860) at select retailers in September.
Wireless LinkStick Accessory
For added convenience, the Samsung Wireless LinkStick allows consumers to access the InfoLink feature on the Series 8 LCD HDTV wirelessly. While a connection to the Internet via an appropriate modem and wireless router is still required, consumers will no longer need to run an Ethernet cable directly to their HDTV. The Wireless LinkStick (WIS-08BGX/XAA) is available now at an estimated selling price of $34.99.
HDTV, Home Theater, lcds, Samsung