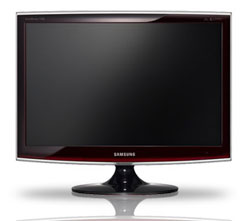 Samsung has been kicking out new TVs and monitors left and right recently. Yesterday Samsung introduced a new high-end line of Series 9 LED HDTVs. In addition to new TVs Samsung is also announced new monitors as well.
Samsung has introduced a new series of HDTV monitors for its "touch of color" line that are aimed at desktop use with both computers and entertainment components like DVD players. The line includes the T220HD, T240HD, and the T260HD. The three monitors share some of the same features including 10000:1 dynamic contrast ratios, dual HDMI inputs, and built-in ATSC/QAM tuners.
The T220HD is a 22-inch monitor with a resolution of 1680 x 1050 and a brightness of 300 cd/m2. The T220HD will retail for $429. The T240HD has a resolution of 1920 x 1200 and a 24-inch screen size. It also features Dolby Digital Surround sound and will retail for $549. The T260HD has a 26-inch screen, a 1920 x 1200 resolution, and similar features to the T240HD. The T260HD will retail for $599.
monitor, Samsung