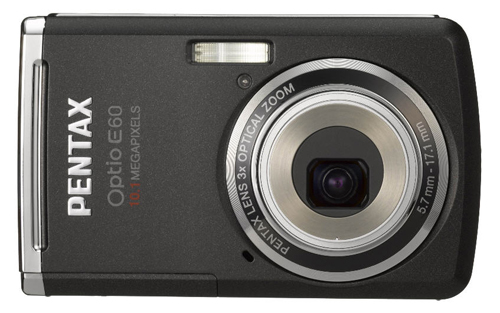 Pentax, we've noticed in the past, loves to wait until late in the day to unveil new digital cameras. Are they that ashamed of what they are unveiling that they hope to just slide it to market with minimal attention? While we could debate the issue of when it is best to introduce new products, we'll just skip that and let you know the company today announced the new Pentax Optio E60, priced at around $140.
The Pentax Optio E60 is a budget focused 10.1-megapixel shooter which has a typical mix of features for a camera of this design. It sports 3x optical zoom lens and is powered by AA batteries. There's a variety of shooting modes, including a "Green" mode which, while called green, has nothing to do with the environment and seems to instead be targeted towards newbies.
Other features of the Pentax Optio E60 include world time/date imprint and image recovery. If you dare, the Pentax Optio E60 will be available in October.
Digital Cameras, Pentax