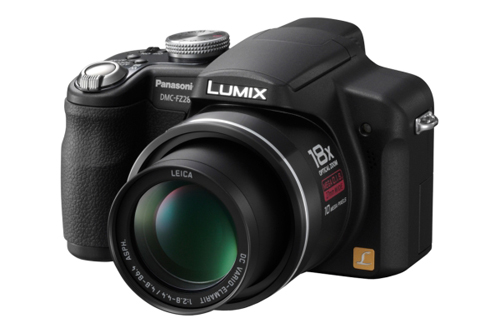 Panasonic unveiled today the LUMIX DMC-FZ28, an action focused digital camera with what the company says is a long zoom and 27mm wide-angle lens. It prices at around $400 and will be available in August.
The Panasonic LUMIX DMC-FZ28 is a 10.1-megapixel shooter with an 18x optical zoom, enhanced auto mode and new auto focus tracking which which lets you automatically track a subject while it moves. This reportedly keeps it in focus without needing to hold the shutter halfway down. Up to 15 faces can be focused upon with this feature as well.
Other functions of the DMC-FZ28 include digital red eye correction, automatic ISO adjustment, 13 shots per second in high speed mode and an integrated SD memory card slot. Software bundled with this camera will allow you to, among other things, edit and develop photos in the RAW format.
Digital Cameras, Lumix, Panasonic