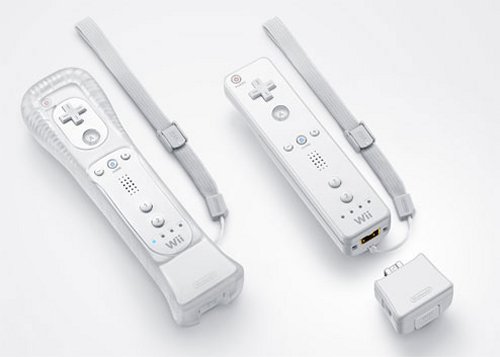 Nintendo today issued a press release to introduce an unexpected accessory to the Wii Remote controller, called Wii Motionplus. The new attachment is designed to give even more accurate responses to a players hand and arm motions and we hope will lead to a lightsaber game in the very near future. According to Nintendo, the new controller add-on connects to the bottom end of the Wii Remote and will do a better job of "reflecting motions in a 3-D space".
The attachment works in conjunction with the existing accelerometer in the remote and the Wii Sensor bar to track the players hand and arm motions and give what Nintendo is calling a true 1:1 response, which is sure to be a welcome feature for those interested in first person shooter games or anything requiring a little more precision beyond shaking or waving the remote wildly. The Wii remote currently with the game console does a great job of sensing more general motions, twisting and waving but sometimes can be a little shaky with the direct pointing. The Wii MotionPlus is sure to be an improvement and open up the Wii to less frustrating times at games requiring more precision.
Just from the photos it appears that the Nunchuck will be able to pass-through connect to the Wii Remote, and Nintendo plans on revealing more details about the Wii MotionPlus accessory during its media briefing at E3 Tuesday morning, but at this point has not revealed any pricing or a timeline for release.
MotionPlus, Nintendo, Wii, Wii controller