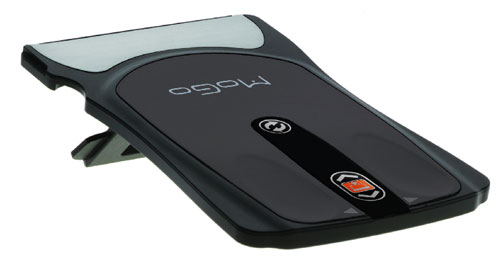 One of the things I like the least about working from a laptop is using the track pad. I end up carrying around a mouse with me so I can work more comfortably. Carrying a mouse can be a pain though, because it adds bulk and you have to plug it into your computer and keep batteries in it or remember to keep it charged. MoGo has a slick solution for the mouse problem with notebooks that it has offered for a while called the MoGo Presenter Mouse.
MoGo now has a new version of the mouse called the MoGo Presenter Mouse PC. Unlike previous MoGo mice that stored and charged in notebooks using ExpressCard/54 slots like the MoGo X54, the new MoGo mouse stores in the PC/PCMCIA Card slot.
This allows users of notebooks that are not equipped with the ExpressCard slot to take advantage of the tiny MoGo mouse design and ability to be used as a mouse and control PowerPoint presentations remotely. The mouse interfaces with a PC via Bluetooth and gets its power from the PCMCIA Card slot. Range for the mouse is 30-feet.
MoGo, mouse