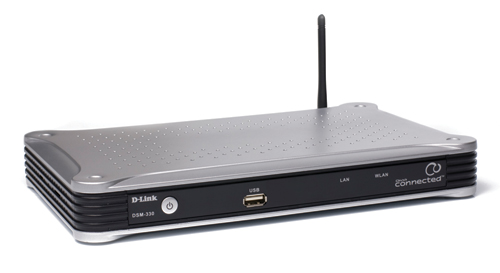 D-Link said today it is ready to debut its first "DivX Connected" device in the United States. It is called the D-Link MediaLounge DSM-330 and pricing is set around $300.
The D-Link MediaLounge DSM-330 is a high definition media set-top player which uses DivX Connected as "a  powerful, open media platform that allows consumers to experience and control PC-based digital media on their television using a remote control." This device, like similar players, lets one stream digital media content from a PC to a television.
Features of the DSM-330 include HDMI output, wireless 802.11g connectivity, DivX/Xvid/WMV9 transcoded video file support, JPEG image support and MP3/WMA transcoded/M3U8/PLS audio support and wireless security. It is available now.
D-Link, DivX, Media Players, medialounge, Set Top Boxes