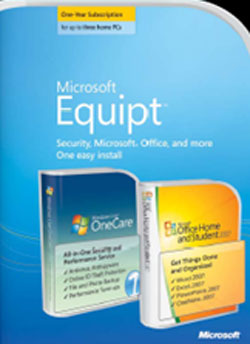 Microsoft has made no secret that it likes the idea of subscription based software. A subscription service has often been rumored to be a potential distribution method for all sorts of Microsoft software from productivity applications to operating systems.
The first product to come to market from Microsoft as a subscription service was announced today and is called Microsoft Equipt. The Equipt service will cost users $69.99 per year and includes a combination of Microsoft Windows Live OneCare and Microsoft Office Home and Student.
The Home and Student version of Office lacks Outlook but does include Word, Excel, PowerPoint, and OneNote. Live OneCare is an all-in-one security and PC management service. During the subscription period anytime new versions of the applications are released subscribers get them automatically and without additional cost. The $69.99 yearly price also allows the installation of the service on up to three PCs. Circuit City will start selling Microsoft Equipt in mid-July.
Equipt, Microsoft, office, Software