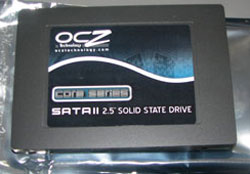 Early this month OCZ announced its Core Series SSDs that brought pricing for SSD drives to significantly lower levels. Granted the SSDs in the Core series are still more than standard hard drives, but the savings compared to other SSDs on the market is very significant.
Laptop Magazine got its hands on a 64GB Core Series SSD and ran some tests to see how well the cut price SSD stacks up to more expensive SSDs and normal hard drives. The average read rate for the Core SSD was 112.4MBps and it had an average seek time of 1ms on Sisoft Sandra tests. HD Tach showed that the drive had an average read score of 89.5MBps and a seek time of 0.5ms.
Laptop found that the boot time with the Core SSD and any other SSD was only slightly better than with a normal HDD. Laptop ran a file copy test on the Core SSD with a 5GB file and found it took 3min and 59 seconds with the Core SSD compared to 2 minutes and 19 seconds for the same file with a Samsung SATA II SSD costing much more. Checkout Laptop Magazine for more benchmarks and info.