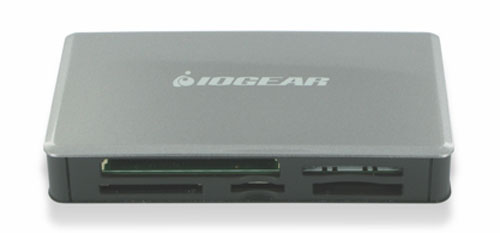 Not too long ago my memory card reader died on me. Several people I know asked me why exactly I bothered with a memory card reader when I can just connect my DSLR/phone/MP3 player directly to my computer. The answer is that with a memory card reader I don't have to remember to turn the camera or device back off.
Every time I hook my Nikon D80 up to my computer I tend to forget it's on and the next time I need it my battery is dead. IOGEAR announced a couple of new card readers today that are exactly what I need to replace my dead one. The GFR209 is a 12-in-1 Pocket Card reader/Writer that retails for $11.95. The GFR 209 can read and write to SD, miniSD, MMC, Memory Stick, and MS Duo cards. It's also tiny and very portable at only 2.5-inches long and under 1-inch deep.
If you need more flexibility in what memory card formats can be read the GFR281 may be more what you need. The GFR218 retails for $19.95 and reads 56 different memory card formats covering all popular cards. The 56-in-1 Memory Card Reader/Writer reads CF cards, SD/MMC, Olympus DC cards, microSD cards, Memory Sticks and other formats.
Iogear, memory card reader