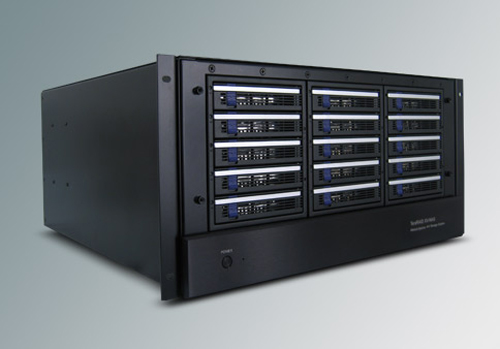 Think about your home entertainment library for a moment. How many GBs of storage do you need for all of your digital media? Don't have enough and need a few TB for your content? Intest seems to have a new 15 Terabyte NAS solution, called the Intest TeraRAID XV-NAS.
The Intest TeraRAID XV-NAS, priced at around $15,000 for the 15TB solution or $11,000 for 7TB, exists to host every illegally copied or downloaded movie and song track you've ever added to your collection. This monster of a NAS device includes 15 hot swappable bays in a RAID 6 configuration. The server is pre-loaded with Seagate hard drives designed for multi-streaming video applications.
Features of this NAS server include 18-inches of depth, support for Intest's content management software and Gigabyte Ethernet to support multiple streams. The Intest TeraRAID XV-NAS should be available now.
Intest TeraRAID XV-NAS [via CE Pro]
Home Theater, intest, NAS