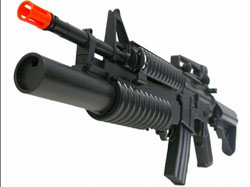 Since the summer began my house has been besieged by woodpeckers. The birds pecked on my house until they have actually made holes in the eaves. I really want to get rid of the little red head birds, but I don't want to just go postal on them.
Despite the fact that I don't want to just kill them, I wouldn't mind knocking them a bit senseless and the M4 3181 AEG Airsoft Rifle with M203 Spring Grenade launched might do just the trick. Yeah, it has got one seriously long name but is there any denying how cool it looks?
The M4 is an electric airsoft rifle that shoots soft pellets you could even pelt your friends with if you want. It can hurl plastic BBs at 300 fps in full auto or semi-auto modes. It's a 1 to 1 replica of the real weapon. The price for the M4 is $79.00 right now.
Airsoft, Toys