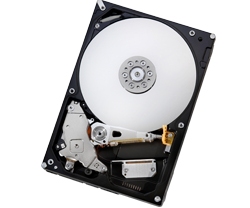 If you were excited when Hitachi came out with the first 1TB internal hard drive early last year then be prepared to be just slightly more excited. Hitachi today introduced that same 1TB Deskstar drive but now using 43% less power consumption, naming it the Deskstar 7K1000.B.
The ".B" means that you can buy this whopping internal hard drive with less concern that it's going to sit there and suck loads more power than your old 80GB drive, which it will, but not as much as it used to according to Hitachi. The drive is actually available in sizes from 160GB up to the largest 1TB capacity.
Some specs worth noting include a SATA II interface at 3Gb/s, 7200 rpm and an optional hardware-based Bulk Data Encryption system. Unfortunately the company has not yet released the price tag for the 7K1000.B or a timeframe when it's available. But now at least we know they have it and they plan on letting us have it too, someday.
Deskstar 7K1000, hard drive, Hitachi