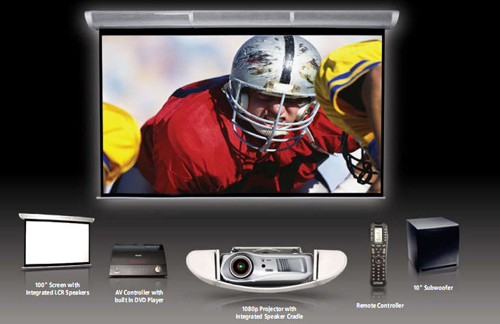 Epson's got a new fully-integrated, high-end home entertainment system ready for the marketplace just in time for the upcoming Olympics. It is called the Ensemble HD Cinema System and you'll find it pricing around $7,000 for a 1080p system and $5,000 for a 720p version.
The Epson Ensemble HD Home Cinema System consists of a number of components. These include a PowerLite 3LCD HD multimedia projector, a 100-inch motorized screen which expands from the front channel, ceiling mounted speaker system, an A/V controller with built-in DVD player, speaker system, 150 watt subwoofer and a universial remote.
Epson added other features include all cabling necessary to setup the system, including HDMI, a wire management track system and mounting brackets. The entire system is available now.
Epson Ensemble HD Home Cinema System
Epson, Home Theater, Projectors