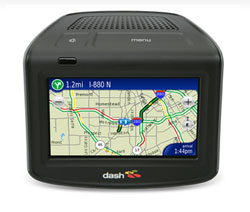 GPS devices are very nice for getting around areas you aren't familiar with and many users find units with special features like real-time traffic very useful in daily commutes. One of the GPS devices with the most features is the Dash Express, which we have talked about before.
Dash announced this week that it has become the first GPS manufacturer to offer updates over-the-air for its GPS device. The Dash Express can grab updates via Wi-Fi without the user having to do anything but turn the unit on. In addition to adding the wireless updates, the June08 update adds more features.
One new feature is the ability to search for locations of places along the route you are taking. This allows you to find coffee shops close to you for instance. The Dash Express also learns your routes and can store them for future use. FasterFind is added allowing the Dash Express unit to get a faster GPS fix to make it ready to use quicker. Several other enhancements were added as well.
Dash Express, GPS