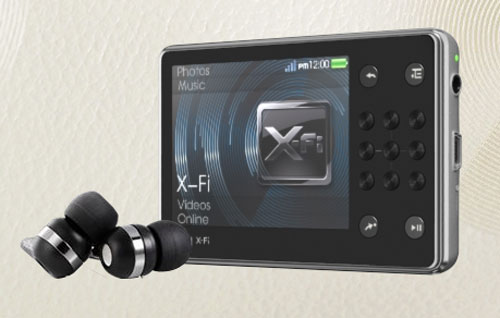 When Creative first launched its X-Fi technology it was seen in sound cards for computers. The X-Fi sound cards were very good and offered excellent sound for PC gaming and movies. Since the launch of the X-Fi technology creative has rolled X-Fi out to other product types.
The latest product to get the X-Fi treatment is the ZEN line of digital audio players. Creative announced today that the ZEN X-Fi with Wireless LAN DAP is now available. The player features a 2.5-inch TFT screen with support for 16.7 million colors, SD card slot for memory expansion, a built-in FM tuner with 32 presets and a built-in mic for voice recording.
The WLAN DAP allows you to stream music from your PC directly to the DAP in X-Fi quality. The ZEN X-Fi with WLAN is available with 32GB of storage for $299.99 and a 16GB version is available for $199.99. Later this month Creative will launch an 8GB ZEN X-Fi player without the WLAN feature for $149.99. Both the 32GB and 16GB DAPs are available right now.
Creative, DAP, zen