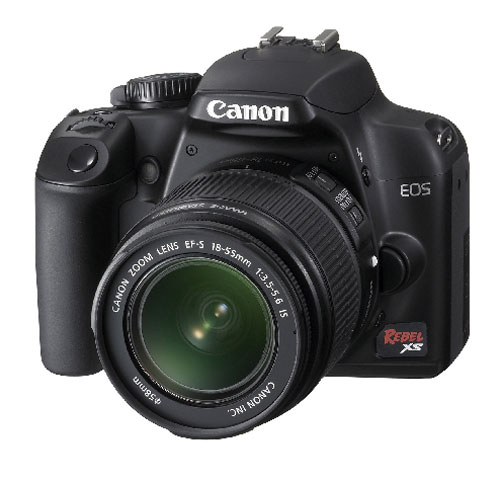 For the most part people tend to stick to point-and-shoot digital cameras for taking pictures of kids, friends and family. However, there often comes a time when a amateur photographer realizes that the point-and-shoot camera isn't cutting it and decides to step up to the DSLR camera.
Today Canon introduced a new entry-level DSLR camera aimed at just this sort of person. The Canon EOS Rebel XS is going to be available in August at a price of $699.99 with an EF-S 18-55mm f/3.5-5.6 IS zoom lens, rechargeable battery and more. The Rebel XS is the little brother to the Rebel XSi we talked about in January.
The camera uses a 10.1-megapixel image sensor and uses a 2.5-inch LCD that features Live View. Live View allows the use of the LCD in addition to the view finder to align shots. The Rebel XS also has a 7-point autofocus system and uses Auto Lighting Optimizer for high quality shots in different environments. The camera can also shoot bursts continuously at 3 frames per second until the memory card fills up. At 1 pound for the body only, the Rebel XS is the lightest weight camera in the EOS line.
Canon, DSLR