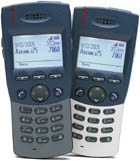 Seeking a replacement solution to those old walkie-talkies you use around your large mansion has arrived in the form of some Wi-Fi enabled handsets. The Ascom i75 Messenger, though mainly targeted towards office and medical settings, could serve you well at home as well.
The Ascom i75 Messenger delivers what Ascom describes as "advanced messaging and highly versatile telephony as well as push to talk capabilities." It has a virtual SIM-card which lets you hop from one handset to another in case of failure of the one you are using.
Other features of the i75 Messenger include a large display, four-way navigation button and digital call style services such as conferencing. It should be available now.
Ascom i75 Messenger [via eCoustics]
ascom, handsets, wi-fi