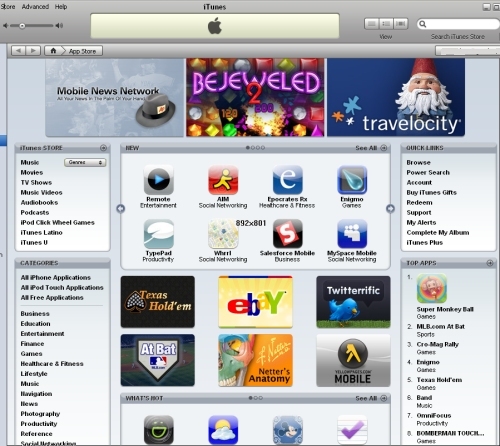 The Apple Application store for the iPhone and for the iPod Touch is finally now live and you can check it out here. The store is loaded with applications for use the the mobile devices that are both for sale and for free.
Topping the list of "Free Apps" early on today include Remote which lets you control iTunes on your computer through Wi-Fi with your iPod Touch or iPhone, an AIM application and applications for use with Facebook, Google Mobile, eBay and Twitter. Some of the top applications in general include Super Monkey Ball (big surprise), MLB, Texas Hold'em and Cro-Mag Rally.
The Apple Application Store lets you download and install the apps as well as easily uninstall them at your will, and it looks like there are a lot of them. Anyone who owned an iPod Touch or iPhone will definitely want to check this out, but be prepared as hours are likely going to fly by with all of this stuff.
Apple, Application store, iTunes