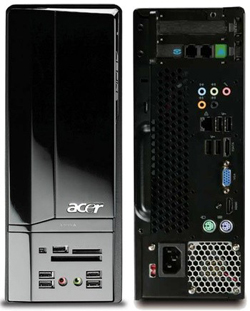 Acer America is out today with news of a new small form desktop designed to serve as an entertainment PC. It is known as the Acer Aspire X1200 and you'll find it with a starting price of around $450.
The Acer Aspire X1200 is available in three pre-configured options. The PCs in general feature AMD dual-core processors, NVIDIA GeForce 8200 on-board graphics and PCI Express 2.0. The X1200s measure 10.6- x 4- x 14.4-inches, making them easier to integrate into a home entertainment setup.
Other features of these PCs include nine USB 2.0 ports, a 14-in-1 card reader, audio jacks on the front of the computer and HDMI support. All three configurations will be available by mid-month at retail.
Acer Aspire X1200 [via Engadget]
Acer, AMD, desktop computers