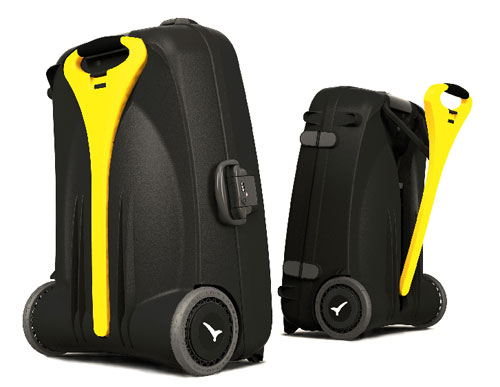 I don't travel all that much, but when I do one of the biggest pains is schlepping all of my gear the 20 miles through the airport. Inevitably I am running through the airport trying to make my flight, making pulling the bags even less fun.
A company from England has announced the world's first power assisted luggage that aims to make the trek through the airport and to the hotel easier by making the luggage pull itself. The bag uses a pancake wheel technology and an Anti-Gravity handle to put a major portion of the bags weight over the wheels.
The motors inside the wheels are powered by 12V NiMH batteries that are stored inside the case along with the components needed to make it all work. The maker says that the bag weighs 10.6kg, 3kg more than a similar size bag minus the batteries and electronics. The motorized wheels only work at angles of 15% to 35%. This makes sure that if the bag is dropped or let go the wheels stop moving immediately. The bag is good for 1.5 miles on a full charge.
bag, luggage