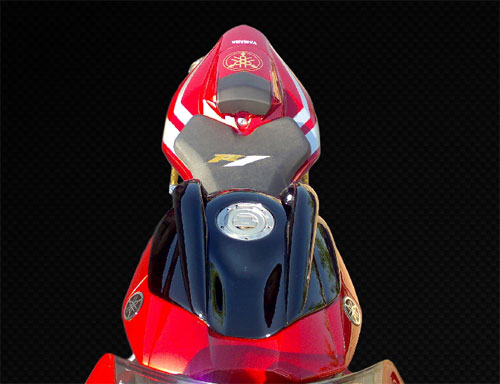 Anyone who has ridden a motorcycle knows that the person on the back can feel uncomfortable when you are in motion because sport bikes typically have no handles for the rear passenger to grab. When riding with your girlfriend its cool for her to wrap her arms around your waist, but other times waist holding isn't so cool. When your boys want to go for a ride and you don't trust them with your bike alone, it's not so cool to have them hugging you.
A guy from Belgium has come up with a solution called the Tankgrip. The designer says the prototype took 4 months to build and ended up looking like a telephone handle on the tank of the bike. In the end he came up with a pair of handles that attach to the tank of a sport bike with a streamlined shape.
The shell for the Tankgrip can be made from either polyester or carbon fiber and goes along with the style of the bike. The product is safe and promises to not rupture or splinter in the event of a crash. A lacquer-finished version of the Tankgrip sells for 350 Euros and a carbon fiber version sells for 450 Euros. That is a small price to pay to keep your passenger from squeezing your waist and to be able to breathe when riding.
grip, motorcycle accessories, motorcycles, Tankgrip