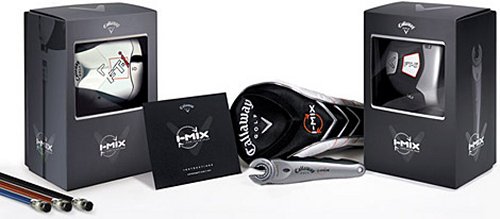 I'm no Golfer, but this thing looks like it would come in very handy. The Callaway I-MIX system basically allows you to swap out different shafts and clubheads, letting you mix and match parts for your golf club so that you can more perfectly match the conditions of the course that you are playing.
You can begin with either a FT-5 or FT-I clubhead. After that you can choose from over 70 shafts from seven manufacturers. It's up to you to make the perfect club. Included tool secures the shaft to the clubhead and supposedly you can do it in under 30 seconds. (If you're the impatient type) You only have yourself to blame if your game sucks. You created the club.

Maybe they should have called it iSuckatgolf, since that's who it's aimed at.
Callaway I-MIX, club, driver, game, Golf, Green, shafts, tool