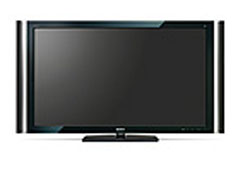 When it comes to LCD HDTVs Sony has some of the most popular sets on the market in its Bravia line. While LCD TVs and LCDs on notebooks share some of the same tech, notebook LCDs have been using LED backlighting for better picture quality and thinner profiles for a while now. The LED tech hasn't been seen much in HDTVs until now.
Sony introduced seven new XBR HDTV models including models using TRILUMINOS LED backlighting and local dimming to provide better black levels and contrast. The TRILUMINOS LED system uses clusters of red, blue and green LEDs to produce improved color. The new models include screen sizes from 19 to 70-inches.
Sony says the new XBR line is its premium line offering the best picture quality to be found on Sony HDTVs. The best new set in the line according to Sony is the KDL-55XBR8 55-inch HDTV. The set uses the TRILUMINOS LED backlighting that makes use of three different colors of LED lights and uses 10-bit processing for deep black levels. The new line also features 120Hz high frame rate technology. Pricing and availability are unknown at this time.
Bravia, HDTV, LCD, LED, Sony