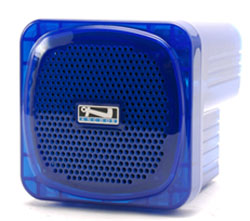 For many business people, time on the road is long and grueling. Road warriors try and carry all they will need with them to make presentations and speaking engagements easier from mice that turn into pointers to the newest and most powerful ultra portable notebooks around. Giving a lecture to lots of people can be a harrowing experience; made all the worse if the PA system is lacking or missing all together.
That is where Anchor Audio comes in with its AN-Mini sound system. The device weighs less than 2.5 pounds so it is easy to carry with you. Despite the small size the AN-Mini can produce 109dB, which Anchor claims is plenty of sound for clear speech to a room of 100 listeners. The system can be powered by normal batteries, rechargeable batteries or AC power. Rechargeable batteries can be recharged without having to remove them from the device.
Mic options include wireless and wired designs with wireless choices like headband, lapel or handheld versions. The wireless mic offers 16 UHF channels and a range of 250 feet. The AN-Mini features a line-in and a line-out, the latter allows recording of presentations. A mic boost makes the mic lauder for use in noisy areas and the woofer uses a 4.5-inch neodymium woofer and a 30W amp. The basic kit sells for $383 and if you want the wireless option it will cost you $946.
PA system, sound system