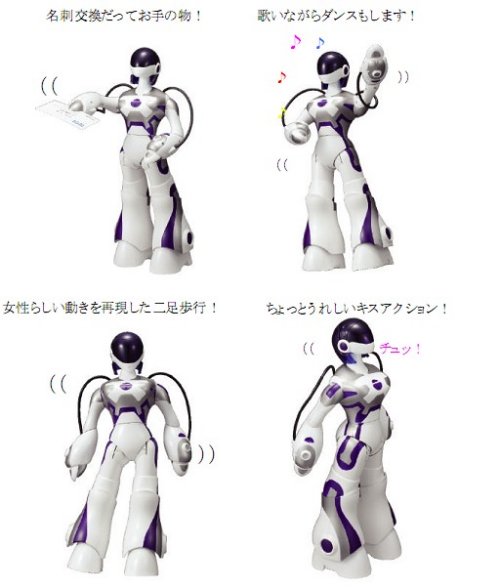 Today, Sega Toys announced their plans to start selling a new humanoid robot in Japan, named E.M.A., on September 26th. E.M.A. stands for "Eternal, Maiden, Actualization" Translated that means, "Hi nerd. Here's your new companion."
The robot is of the female persuasion and stands at 38 cm tall. According to Sega, the E.M.A. is special because of her "glamorous body" and because she's highly interactive. (Translation:Only a nerd could love that body and she kinda puts out.) She'll sing and dance, hand out your business cards, even walk "like a lady". I wasn't kidding when I said she puts out. She won't go all the way, though I'm sure some of you will force the issue, but she will kiss you if your head comes into close contact with her. That's when the love mode switches on.

It's got all the usual infrared sensors for avoiding obstacles and such. The elbows, shoulders, waist and knees all move. Looks like Japan only, for $175.
female, interactive, japan, kissing, robot, Sega, toy