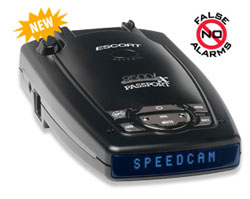 If you are the type that is a perennial speeder you probably already have a radar detector in your car. Not all radar detectors are created equal and if you have an older one you know how each time you drive by a Wal-Mart it goes off.
Escort is one of the top names in radar detectors and its Passport line has a new item called the 9500ix. This radar detector has the 360-degree protection from radar and laser speed detectors. In addition to the standard radar and laser detection the 9500ix also has a GPS-enabled database for speed cameras.
The GPS capability allows the radar detector to know where it is and where nearby traffic cameras are located. Part of the service also includes updates to keep the camera database up to date. Updates are included for the first 90 days after purchase and ongoing updates will require a fee. The price for the Passport 9500ix is $499.95 and will be available in July.
Escort Passport, Passport, radar detector