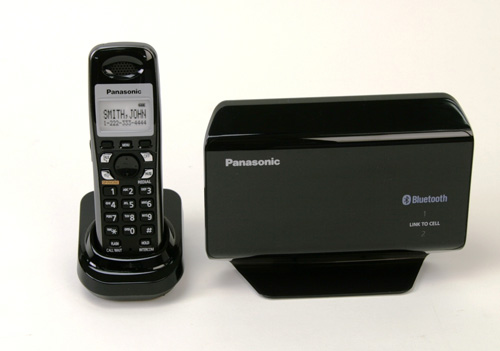 Panasonic said today it was releasing a new mobile phone accessory which connects Bluetooth-enabled mobile phones to cordless handsets in the home. It is known as the Panasonic KX-TH1211 Link to Cell and you'll find it pricing around for around $100 (model KX-TH1212 includes two handsets and retails for around $130).
The Panasonic KX-TH1211 Link to Cell is a Bluetooth-enabled box which has a one touch initialization process, according to Panasonic. It can link up to two Bluetoot-enabled cell phones with up to six compatible wireless handsets. It can also support regular landline communications.
Features of the Link to Cell include talking caller ID, call blocking, multi-color LED incoming call indicators, ring tones which can be programmed to specific numbers and the routing of specific incoming calls to specific handsets. It should be available now.
Panasonic KX-TH1211 Link to Cell
TAGS:
mobile phone accessories, Panasonic