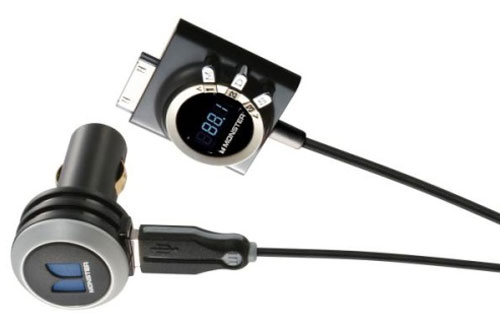 Once you get hooked on your own custom playlists and listening to what you want when you want on your iPod or iPhone, going back to normal FM radio in your car is hard to do. You could carry tons of CDs and listen to what you want in the car too, but that is so 1994.
At CES this January Monster announced what it claimed to be the world's most advanced iPod/iPhone wireless FM transmitter called the iCarPlay 250. Monster announced this week that it is finally shipping the iCarPlay 250 at $99.95. The device allows you to play your digital tracks from your iPod or iPhone over unused FM stations on your radio in the car or the home.
The iCarPlay 250 also charges your iPhone or iPod while it sends your music to your stereo. Features of the iCarPlay 250 include three presets for easy tuning, easy to use three button control, detachable USB cable, easy to read blue LCD and more.
FM transmitter, iPhone, iPod, Monster