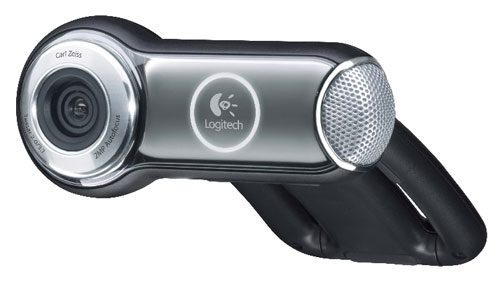 Logitech has a long history of making some of the best webcams available for computer users. What Logitech doesn't have much of a history offering are Mac compatible webcams. In fact this week Logitech announced its first ever Mac compatible webcam that uses premium technologies.
The Logitech QuickCam Vision Pro for Mac has Carl Zeiss optics and is compatible with iChat and Skype on the Mac. The camera also uses a voice coil motor for its focusing system rather than a stepper motor. Thus provides faster focusing and allows the webcam to focus on objects as close as 10cm from the lens.
The camera can also refocus on objects in only three seconds. The QuickCam Vision Pro for Mac uses a 2-megapixel sensor and can record full motion 30fps video. Logitech's proprietary RightLight technology is featured and the cameras is designed to complement the looks of the Mac computers. The camera will be available in the US and Europe in July for $129.99.
Logitech, Mac, webcam