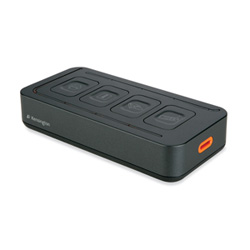 Kensington seems to have been storing up on new product releases for notebook computers. The computer accessories maker yesterday unveiled some 24 new products across several notebook accessory related categories.
Highlights of this new product line up include a device for sharing USB devices between computers, wireless mice, notebook locks, column mount monitor arms and cases. We've provided more details on these new Kensington offerings via its press release after the jump.
Kensington Introduces 24 Innovative Notebook Accessories for School, Work and Play
smart made simple™ Design Personalizes Products to Suit Any and Every Lifestyle Need
REDWOOD SHORES, Calif. (June 16, 2008) — Kensington Computer Products Group, a worldwide leader in delivering smart made simple™ computing accessories for the mobile consumer, today announced 24 innovative new products designed to give users maximum flexibility, comfort and ease of sharing content and devices as they pursue busy school, work and play schedules. Included are: ShareCentral™ – a new device for the home office or dorm room for instant sharing of content, peripherals and desk space; an extension of the award-winning Ci and SlimBlade™ Lifestyle Collection of input devices with an ultra-portable wireless mouse and a Bluetooth® wireless mouse presenter; three world-renowned ComboSaver® combination notebook locks updated for current fashion as well as rock-solid security; three column-mount monitor arms for perfect monitor positioning; four innovative dual soft-and-firm wrist rests, and seven new classic notebook cases.
"Our smart made simple design philosophy is in our DNA," said Christine Dumery, Director, Marketing Communications. "Every product in our new line has multiple features that deliver smarter support with simpler ease of use than has ever been available before. It all adds up to providing each user with a completely personalized experience to match each person's unique lifestyle.
"Notebooks continue to grow as 'companion of choice'," Dumery continued, "giving us ever more inspiration and opportunity to make the overall mobile experience fit each user like a custom-made glove. When you add iPod, iPhone and other media devices to the mix, everyone has gotten into an unprecedented level of content sharing – at school, at work, in the home office. We go right into these environments to study ways to make a better consumer experience – and products like this current line-up are the outcome of our careful attention to detail."
ShareCentral Brings Greater Ease to Home Computing Sharing
Kensington's "Connect it" line brings fast and easy sharing to the home office with ShareCentral – a smart made simple device that lets family members share up to five USB devices between two computers with the touch of a button, eliminating cable clutter and the need to plug and un-plug multiple devices. Available with one, two, or five USB ports, ShareCentral is truly plug and play, with no complex network required.
The Kensington ShareCentral family includes the Kensington ShareCentral 5 (SKU K33901US; SRP $79.99), the Kensington ShareCentral 2 (SKU K33900US; SRP $59.99), and the Kensington ShareCentral 1 (SKU K33903US; SRP $39.99).
Flexible Wireless Mice Are Always Ready to Go, So That You Are Too
Two innovative new wireless mice in Kensington's "Control it" line help simplify school and business travel whether across the campus or across the globe. The versatile SlimBlade Bluetooth Presenter Mouse (SKU K72330US; SRP $59.99) combines the power of two devices into one: a wireless laser mouse and a presenter. Bluetooth technology frees up the notebook's USB port for other uses, while the mouse follows the notebook's sleep and wake modes for optimal battery efficiency. The ultra-portable Ci95m Wireless Mouse with "plug and stay" Nano Receiver (SKU K72328US; SRP $39.99) tucks into any pocket, bag or backpack and offers instant connectivity, so it's always ready to spring into action.
Combination Notebook Locks – Rock Solid Security with a Fashion Twist
Kensington has further enhanced the security of its world renowned "Secure it" line of ComboSaver Combination Notebook locks, which attach to 99% of notebooks sold, while updating them to match the more fashionable looks of today's notebook accessories. The ComboSaver Combination Portable Notebook Lock (SKU 64560US Steel Grey and SKU 64576US Red; SRP $24.99), is easy to use with its self-coiling cable and light weight, can protect a notebook anywhere, anytime, and is available in both Steel grey and high fashion Red. The ComboSaver Combination Notebook Lock (SKU 64561US Steel Grey; SRP $29.99) has a user-friendly, keyless 4-wheel combination lock and 3.5mm steel cable anchors. The ComboSaver Ultra Notebook Lock (SKU 64562US Steel Grey; SRP $39.99) is the strongest theft deterrent available with an ultra thick carbon tempered steel cable. All ComboSaver notebook locks feature the Kensington's patented T-Bar locking mechanism for maximum security.
Portable Power Outlet: Simultaneous Power
Kensington adds a new portable power outlet to its "Power it" line that provides simultaneous power and charging capabilities for up to five mobile devices. The Kensington Portable Power Outlet (SKU K38032US; SRP $24.99) has wall outlets on both sides and contains two USB power ports. It travels easily and conveniently with a flexible built-in cable, low profile and compact shape.
Flexible Column Mounts Install Right from the Box for a Perfectly Positioned Monitor
Kensington has applied its smart made simple design philosophy to new products in its "Optimize it" line that make it easy to practice good ergonomic habits. The Kensington Column Mount Monitor Arm with SmartFit® System reduces eye and neck strain and provides the increased productivity that comes from a perfectly positioned monitor. The Column Mount Extended Monitor Arm with SmartFit® System features dual pivot points designed for flexible mobility. The Column Mount Notebook Monitor Dual Arm with SmartFit® System holds both notebook and additional monitor at comfortable eye level to work on multiple documents or applications and to collaborate with colleagues. These sturdy but lightweight extruded aluminum mounts are easy to adjust, giving users full monitor function while reducing desktop clutter. They work right out of the box with their practical cable management systems, so that users can be up and running within just a few minutes.
The Kensington Column Mount Monitor Arm with SmartFit® System (SKU K60903US; SRP $149.99), Kensington Column Mount Extended Monitor Arm with SmartFit® System (SKU K60904US; SRP $179.99), and Kensington Column Mount Notebook-Monitor Dual Arm with SmartFit® System (SKU K60905US; SRP $259.99) each include a two year warranty and come with the Kensington Security Slot for easy lock-downs.
Wrist Rests Adjust from Soft to Firm and Link Together to Make Favorite Length
Kensington also introduces in its "Optimize it" line a new generation of versatile wrist rests for mice and keyboards that are designed specifically for personalized comfort and support. The Versatile Wrist Rests for Mice (SKU K62830US Black and SKU K62831US Avocado Green, SRP $9.99) are double sided to provide either soft or firm wrist protection. The Versatile Wrist Rest for Keyboards (SKU K62832US Black and SKU K62833US Avocado Green, SRP $18.99), like its mouse counterpart, offers comfort where needed most. The modular interlocking design features two pieces that can be combined for a keyboard or used separately for wrists and elbows.
Seven Classic Notebook Cases to Meet Every School or Work Need
Expanding its "Carry it" line of notebook cases, Kensington introduces seven classic and highly functional bags for protecting and storing notebooks and accessories. The SP100 15.4" Classic Roller (SKU K62565US; SRP $79.99) allows all your travel essentials to be carried with its dual bar handles and exterior storage compartment. The SP80 15.4" Deluxe Case (SKU K62564US; SRP $49.99) cushions notebooks and accessories while its rubber feet protect and prevent scratching. The SP40 15.4" Classic Case (SKU K62563US; SRP $39.99) carries notebook essentials and contains a roller bag attachment strap for easy airport travel. The classy SP30 15.4" Case (SKU K62560US; SRP $29.99), offers padded protection for notebooks and exterior storage for important travel items. The SP20 15.4" Classic Backpack (SKU K62566US; SRP $29.99) makes it easy to travel with your notebook computer and other essentials. The SP15 15.4" Neoprene Sleeve (SKU K62561US; SRP $24.99) features a neoprene exterior and handles for protection as well as organizational pockets for storage. All bags are designed to fit computers up to 15.4" and carry a limited lifetime warranty
Product Availability
The new Kensington products are available for pre-order at Amazon.com and Kensington.com and will be available at major retailers at the end of the month.
Accessories, Kensington, laptop computers, notebook computers