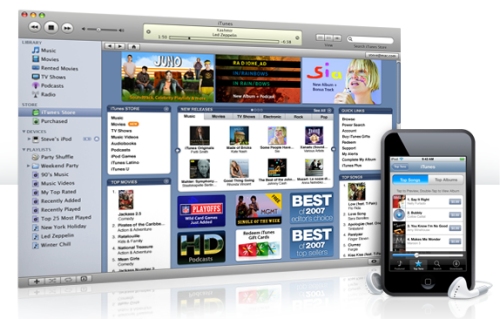 Apple is touting themselves as the world's largest online music retailer and these numbers are tough to argue with. As of Thursday the company announced that iTunes has reached the 5 billion mark and beyond for the number of online song downloads since their launch in 2003. It seems like it was only a year ago that they reached the 3 billion mark. In fact it was not quite a year go last July when they announced they had reached 3 billion downloaded songs.
To get an idea of just how many songs that is, customers had to have downloaded a little over 2.5 million songs per day on average since the site launched. In reality 2 billion of these were done in just the last 10 months, making it over 6 million per day for the past year.
Apple's press release couldn't forget to mention the online video they've been pushing this year, however. According to the company they are seeing over 50,000 movies purchased and downloaded each day as well. We definitely will be filing that under the "impressive" category.
Apple, downoads, iTunes, music, online music, songs