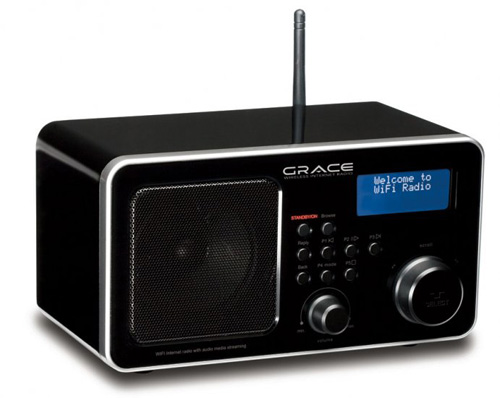 Grace Digital, which in  May unveiled some new digital turntables, announced today the integration of a new personalized radio service into its ITC-IR1000B Internet desktop radio. This service is known to many as Pandora, based on the Music Genome Project.
Music through Pandora, according to Grace Digital, uses trained musicians to listen to and identify musical attirbutes in individual songs. These songs are grouped into playlists based upon musical similarlity. Listeners enter a favorite song or artist to help them build personalized radio stations tied to their musical tastes.
The ITC-IR1000B, priced at under $200, is itself a wireless Internet radio you plug into a a standard power outlet at home. After it has established a wireless connection through your home network you can listen to a wide array of Internet radio stations. Grace Digital said it is already available at many retail outlets.
grace digital, Internet Appliances, internet radios, pandora