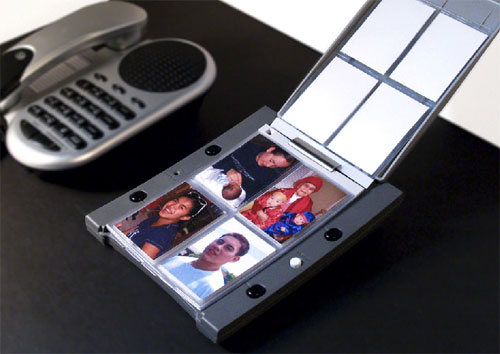 When parents and grandparents start to age often one of the first things to go is their vision. Vision loss keeps many elderly people from being able to use the phone because of the small numbers and buttons that can be hard to locate and press.
A new device from The Vision Group addresses this problem by allowing users to dial phone numbers by pressing a button to the side of a photograph. The FotoDialer has six pages that each holds four photos. The numbers that correspond to the photos are stored in the devices memory and the FotoDialer connects to any home phone.
The photo pages hold 2×3 inch wallet size images and the device can also be programmed with emergency numbers. Even if a person's vision is good, the FotoDialer can also help users who have a difficult time recalling phone numbers. I guess I fall into the hard time remembering numbers category. If I lose my cell phone with its one touch dialing I can't even call my wife.
elderly, phone dialer