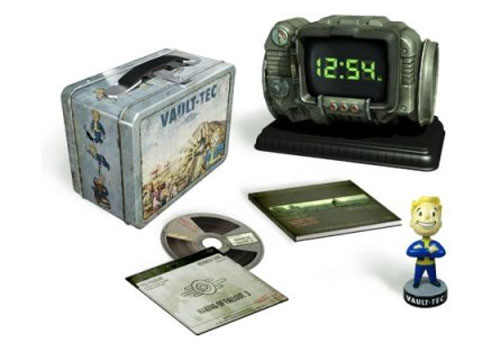 Few things get fans of video games salivating like the words exclusive limited edition. The idea of a limited edition game gets even more impressive when you add in a popular game title and some very cool extras that you won't get anywhere else.
That is exactly what Amazon.com is offering fans of the Fallout game franchise. The latest version of the game called Fallout 3 is available for pre-order on Amazon.com in an exclusive and limited edition version called Fallout 3 Survival Edition.
The special edition includes a life-size replica of the Pip-Boy 3000 wrist –mounted device worn by game characters, the game itself, metal Vault-Tec lunchbox, 5-inch Vault Boy Bobblehead, The Art of Fallout 3 hardcover book, and The making of Fallout 3 DVD. Fallout 3 is slated for Fall 2008 release on Xbox, PS3, and Games for Windows. The special edition is available for pre-order at $129.99. Be prepared for some serious hazing if you actually take the lunchbox to work or school—unless you work or go to school with a bunch of geeks.
Amazon.com
Fallout 3, video game