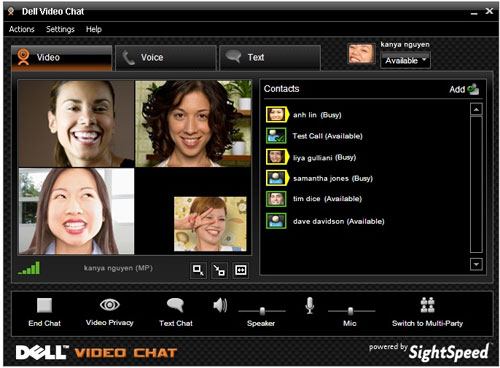 Text chatting with friends and family around the world is a nice way to stay in touch, without racking up huge phone bills doing it. Typing isn't as enjoyable as talking for most people and if you can actually see your friends or family when talking to them it is even better.
Yesterday Dell announced a new Studio series of notebooks and the notebooks are also bundled with a new video chat application called Dell Video Chat that is powered by SightSpeed. As you might guess from the name the application allows you to talk to people and see their faces as you talk using your Internet connection and a webcam.
The application supports 4-way video chats and video, text and voice chat are all free and unlimited. The application can be used to call normal phone lines for 2 cents per minute in the US and Canada. Users can also buy phone numbers to go with the application from any area code. Video mail with clips of up to 3 minutes can be recorded and sent to other users. Users that don't own Dell computers can get the application for free from the SightSpeed website.
Dell, SightSpeed, video chat