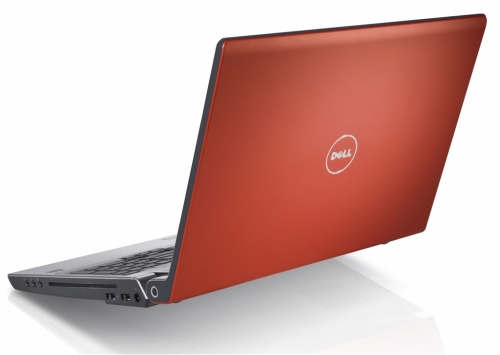 Dell today launched the new "Studio" line of laptops following the trend of more consumers who would like a little more style and customization available for their portable computers. Kicking off the Studio laptops Dell launched the Dell Studio 15 and Dell Studio 17, which come with a 15.4″ and 17.1″ display, respectively.
Both notebooks carry the drop hinge and "wedge" shape seen in the XPS laptops from Dell and both come in a range of vibrant and loud colors, capacitve touchpad and multimedia buttons that light-up when pressed, and an optional backlit keyboard. They also have the option of built-in broadband connections through Sprint or Verizon, Blu-ray drive, slot-loading drives and you can even get a mercury-free LED display if you ask. Dell has put some thought to your laptop accessories as well, offering mice, backpacks, sleeves and earbuds that are colored to match.
The range of colors initially available include Plum Purple, Tangerine Orange, Flamingo Pink, Midnight Blue, Ruby Red, Spring Gree, Jet Black or a Graphite Grey that can be offset with Blue, Pink or Red trim. Dell has these available now at the Dell website or if you would like to get your hands on it before buying you can watch for them to show up at Best Buy and Staples soon with the Studio 15 starting at $799 and the Studio 17 starting at $999.
Dell, laptops, Notebooks, Studio 15, Studio 17, Studio Line