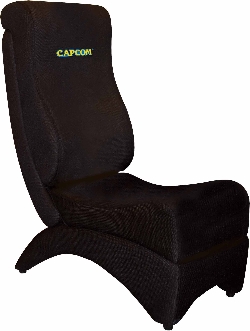 If you are a really big fan of Capcom games and want to feel the rumble of getting your butt kicked in Street Fighter and the like, the new Capcom-branded Reactor Video Game Chair from Ultimate Game Chair is for you. It will price around $180.
The Capcom Reactor Video Game Chair sports "eight high-impact vibrating motors and 3D-stereo sound." The motors are located in the upper and lower back, as well as the seat cushion, offering a massage mode as well.
Other features of this chair include head-mounted, 3D-stereo sound, headphone jacks, compatibility with a wide arrange of gaming systems and a removable backrest. It should be available later this year.
Capcom Reactor Video Game Chair press release
capcom, Furniture, gaming accessories, video games