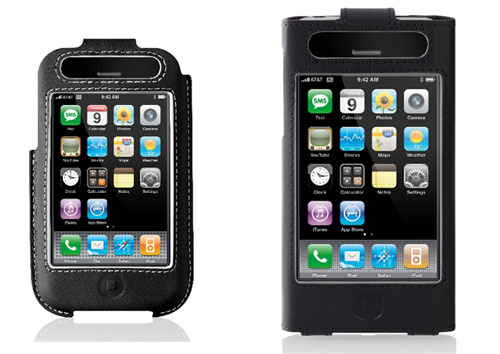 When Apple announced the iPhone 3G this week it was a given that cases and accessories would be deluging us in the next few weeks. One of the things that most iPhone 3G buyers cone July 11 will be looking to buy at the same time will be a case to protect their shiny new phone.
To that end Belkin has announced a complete line of nine cases specifically designed for the iPhone 3G. The cases are supposed to protect the iPhone 3G and add looks to the device at the same time. The Belkin line includes silicone cases, arm band cases and polycarbonate cases in multiple colors, patterns and styles.
Belkin even offers a pink diamond looking case for the ladies looking to get in on the iPhone action. Some of the cases like the Leather Flip Folio also protect the screen of the phone. If you plan to use your iPhone 3G on a run or while exercising Belkin also has a Sport Armband Plus with FastFit to protect and hole the iPhone on your arm during exercise. The new line is slated to launch in July with prices up to $34.99.
iPhone 3G, iPhone cases