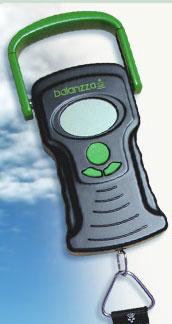 If you collect a lot of souvenirs (i.e. junk) on trips, it is helpful to know before you hit the baggage counter scale how much a suitcase weighs so you can avoid added charges. One possible way to get an idea of your luggage weight ahead of time is with the new Balanzza Digital Luggage Scale, priced at around $25.
The Balanzza Digital Luggage Scale attaches to your luggage. You then use the handle to lift your luggage, holding it until your arm breaks off or you hear the scale beep – whichever happens first. Assuming it beeps, you can drop your baggage and look at the device's LCD display to see how many extra bottles of rum you have to somehow reshuffle.
This scale displays weight in pounds or kilograms and is powered by two AAA batteries. It also supports up to 100 pounds. If your luggage ends up weighing this much however, it might be time to find a chiropractor.
Balanzza Digital Luggage Scale
Baggage, balanzza, luggage scales