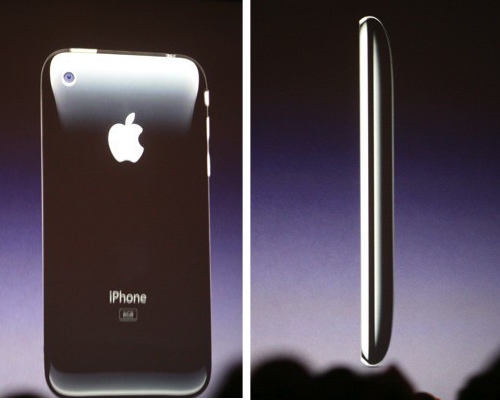 Today at WWDC Steve Jobs made the official announcement we've been waiting for – the 3G iPhone. For the most part the new model looks very similar to the original, but along with the high speed connection Apple did add in some other improvements.
Some of the new features highlighted today include a full plastic back, improved audio, a flush headphone jack, even thinner edges, solid metal buttons, GPS and all of this for a $199 price tag for the 8GB model. Apple is boasting that with the new 3G connection web pages load 2.8 times faster than the previous iPhone model and is faster than both the Nokia N95 and the Treo 750. The battery is expected to give 5-6 hours of web browsing, 8-10 hours of talk time (5 hours of 3G talk) and 24 hours of audio playback on a single charge.
Apple is launching the new 3G iPhone on July 11, rolling out to the U.S. originally and to more than 70 countries in the coming months. Again, the 8GB will be priced at $199 and the 16GB for $299. The 16GB will also come in both black or in white.
Images via Engadget
3G, 3G iPhone, Apple, iPhone