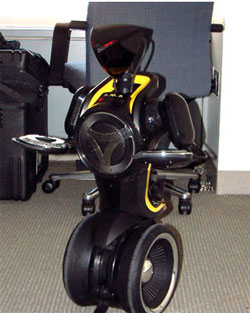 This bot makes Sony's Rolly look like the lame dancing egg that it is. AMP stands for Automated Music Personality, from Hasbro's Tiger Electronics and Sega Toys, and it's here to dance, follow you around with music and look just plain awesome.
It's got Segway-like legs that dance to the beat of any MP3 player via a 3.5mm jack. Also sports 49 LEDs that shine nicely too, because bots have to have lights. The A.M.P. has touch-sensitive DJ scratching pads and 62 sound effects built in so you can jazz up your songs, and an IR sensor so he will follow you from room to room and keep the music with you at all times.

Hit the link for a video.
amp, bot, dance, MP3, music, robot, Sega, tiger, tunes