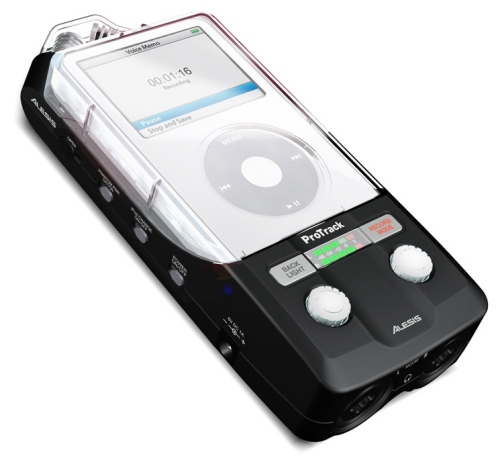 Alesis has come out with a product recently that takes advantage of the popularity and significant storage capacity available in the Apple iPods with a new digital stereo recorder that integrates with the media player. The ProTrack Stereo Handheld Recorder has sleds built into the design to securely dock your iPod inside and use it to store and playback digital audio recordings.
The ProTrack comes with two built-in stereo condenser microphones to pick up ambient sound, or you can plug in external mics or line-in audio sources to the 1/4-inch jacks. The recorder, like the iPod itself, is truly portable and runs up to five hours on four AAA batteries and can fall back on an AC power adapter if needed. They've even included a threaded mount on the bottom to hold it steady with things like a camera tripod.
Be sure to check if your iPod is compatible before picking up the ProTrack recorder from Alesis since it doesn't fit all iPods. Alesis says it works with the iPod Classic or 5th Generation, and the 2nd and 3rd generation iPod nano. No price has been released yet but you can expect to see it show up in stores around Q3.
Alesis ProTrack Handheld Digital Voice Recorder for iPod
via Engadget
Alesis, digital recorder, iPod Accessories, ProTrack, voice recorder