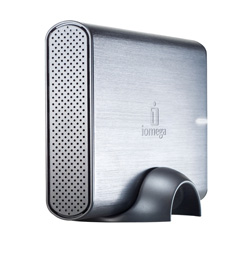 Iomega is getting into the DVR storage expansion business with today's unveiling of a new external eSATA-compatible hard drive. The model is called the Iomega DVR Expander Drive and pricing is set around $200.
The Iomega DVR Expander Drive brings 500GB of additional storage to the DVR, which Iomega says increases storage capacity "by as much as 300 hours of standard-definition TV or 60 hours of high-definition TV." It is currently certified compatible with an eSATA-enabled Scientific Atlanta DVR when connected to the eSATA port on the back panel of the DVR.
Additional cable companies that utilize Scientific Atlanta DVRs, added Iomega, include Astound Broadband, Blue Ridge Communication, Bright House Networks, BVU OptiNet, Carter, Everest Communications, Knology, Oceanic, Telewest Broadband, Videotron, and Wow! Internet and Cable. This external drive, which should have certified compatiblity with other eSATA enabled DVRs in the near future, will be available this month.
Iomega DVR Expander Drive press release
dvrs, External Hard Drives, Iomega