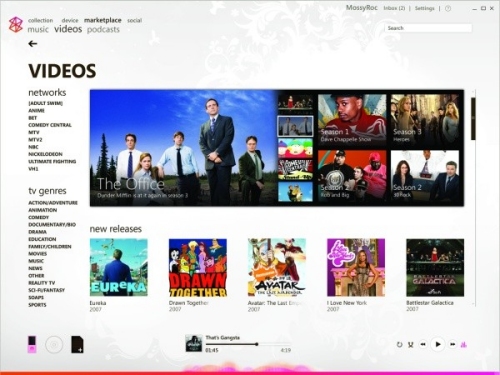 For those sticking it out with the device, Microsoft released a whole mess of new features today with the Zune version 2.5 software update. The new feature set is led by the Zune Card, TV downloads and a number of smaller, but highly requested items.
A subscription with the Zune Card allows you to pick up copies of favorite songs from your best buddies who also have a Zune. If you don't subscribe you can still see others Zune Card information but you'll have to pay to listen to their favorite tracks.
TV show downloads from the Zune Marketplace are another big point of this release. Users can download shows at the online Zune store from NBC, MTV and Comedy Central to name a few, but it's just TV shows at this point. No movies to download and you still can't even get movies onto the Zune from your Xbox 360. And to top it off, the TV shows cost around $2 each, most of which are available for free online already.
Some other updates include instant syncing, the ability to edit media data, auto updating playlists and gapless playback. Not everything that this update brings is free but the download is, and it is a step in the right direction to bring the Zune closer to some heavy competitors like the products from Microsoft's good friends at Apple.

Zune software download
Microsoft, software udpate, Zune, Zune 2.5