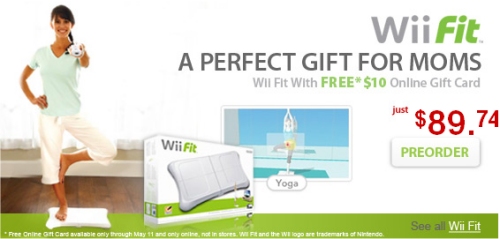 Walmart is moving in a more creative direction for the latest upcoming holiday and is promoting Nintendo's Wii Fit as a "perfect gift for moms" for this Mothers Day. The retail giant has thrown traditional flowers and candy out the window as the Nintendo product is dominating the Walmart website home page with pre-orders for just under $90. The orders even come with a $10 gift card to Walmart so you can come back and get yourself a little something extra later on. The site's home page portrays kids and men using the Wii Fit board as well, not to miss out on any type of demographic.
Walmart's Mothers Day Wii Fit pre-order promotion with the gift card runs through May 11 and the Wii Fit will officially launch on May 19 for $89.99. Walmart will ship any pre-orders on or shortly after May 21 and ensures consumers that they been working with Nintendo to have adequate inventory to fill the pre-orders.
The Wii Fit is an electronic exercise board and associated "game" for use exclusively with the Nintendo Wii game console. It can response to the players movements to allow interaction with the video game for such things as yoga, aerobics and strength training.
Wii Fit at WalMart via Reuters
exercise, Games, gifts, mother's day, Nintendo, Wii, Wii Fit