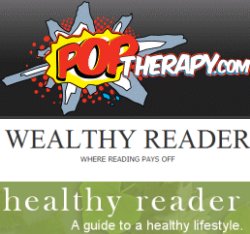 It's that time of the week again, which means a look back at the week that was in our network of blogs. It's been a busy week all around and as usual Poptherapy kept you abreast on all the latest geek news and popculture, while over at Wealthyreader it was all about ways to get wealthy or stay wealthy. Our health blog, Healthyreader focused on ways to stay healthy and enjoy it all. Health, wealth and geekiness is a great combination. Here's some of what you may have missed.

At Poptherapy this week we discovered what happens when you combine German brew with an extra life. We spotted some interesting gamer art and some Pin-Up girls with roller-skates. How about the new Street Fighter Chun Li movie, starring a really hot babe? We also caught Amy Winehouse having a pretty bad day with a diaper sighting.
Over at Wealthyreader we're still talking about Stimulous checks and the IRS. This is all stuff you've got to know. The wealthier we are, the more gadgets we can buy. If you need any advice, just ask.
Healthyreader has plenty of food for thought regarding all things health. The gadgets and tech, even the wealth don't mean a thing if you don't have your health right? This week, we took a look at some less harmful insect repellants that researchers are working on. Some Sennheiser headphones that are awesome for outdoor activities, and a look at San Francisco, the fittest city in America.
TAGS:
Games, geek, Health, money, neat stuff, pop culture, roundup, wealth, Weekly