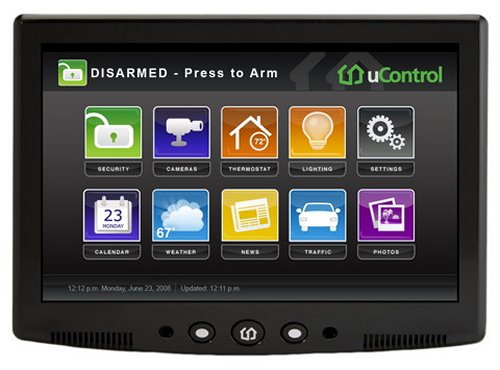 Here's a decent alarm system with a slick interface. uControl is a fairly new company in the home security arena. They took a year developing and refining a platform called SMA (Security, Monitoring and Automation) and a TouchScreen control panel that both works as a fresh system install and can also integrate with your existing alarm. That means you are covered no matter what.
The company says that it will replace any control panel or alarm box in an existing system, bringing together all the existing functionality of equipment, sensors and wiring. In a new install, the 7-inch WVGA TouchScreen is a stand-alone wireless alarm system that communicates with wireless peripherals and sensors. It also offers remote control from any browser or cellphone, alerts via email or SMS, redundant connectivity (WiFi, ethernet and built-in GPRS cellular), cameras and compatibility with home automation setups.

Interestingly, there's a modular GUI to manage video, photos, web-content and social networking apps throughout the house. Did I mention that it streams media and even links in with thermostat and lighting controls. You'll be able to see uControl at Cable Show '08 in New Orleans.
Home, media streaming, safety, Security, system, uControl