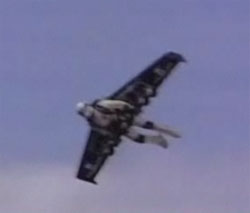 For thousands of years man has dreamed of flying like a bird with nothing but a wing attached to his back like Icarus and his fabled wings. The holdup has been a gnawing need by most men to not plummet to their death thanks to an Icarus-like wing failure.
A Swiss man has set a record by becoming the first person to fly with nothing but a wing and a jet engine strapped to his back. The man names Yves Rossy was dropped from a plane over the Swiss Alps with a parachute and a folded wing.
During his free-fall Rossy unfolded his wing and fired up the jet engines for a flight through the Alps at speeds up to 180 MPH. After his flight Rossy folded the wing and parachuted to the ground for a landing at the Bex airdrome. Rossy's first attempt at a similar flight using an inflatable wing failed. The wing used in his successful flight was ridged and made from carbon.
Flight, Rocket Man