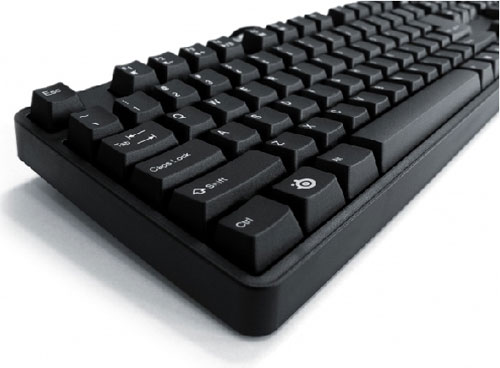 When it comes to gaming keyboards I am used to seeing fancy LCD screens and colorful backlighting and the latest from SteelSeries offers neither of those. The only thing you will probably miss during a late night gaming session is the backlighting.
The new SteelSeries 7G keyboard could well be the last keyboard you ever buy. Rather than membrane keys that wear out after only 1-5 million key strokes the 7G uses mechanical switches that promise a life span 10 times longer at 50 million keystrokes. Hopefully the printed letters and symbol on the key tops will last that long as well.
Gamers worry about ghosting with gaming keyboards too and the SteelSeries 7G promises that won't be a problem. The keyboard claims to support multiple key strokes at once without ghosting even if all the keys on the keyboard are pressed at the same time. The 7G can connect to your PC via PS/2 or USB and offers headphone out, mic in and a pair of USB ports as well. The new keyboard is available now at an MSRP of $149.99.
gaming keyboard, SteelSeries